Bozeman Health COVID-19 Information
Testing Turnaround Times
*Testing updated 4/26/2021 at 9:30 a.m.


Bed Capacity at Bozeman Health Deaconess Hospital
*Bed capacity updated 4/26/2021 at 9:30 a.m.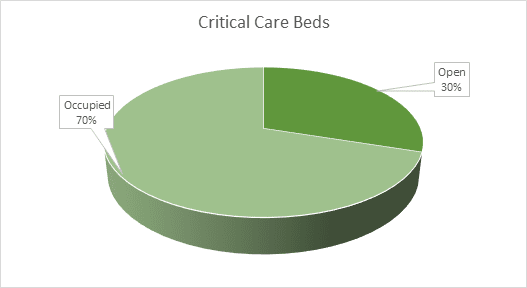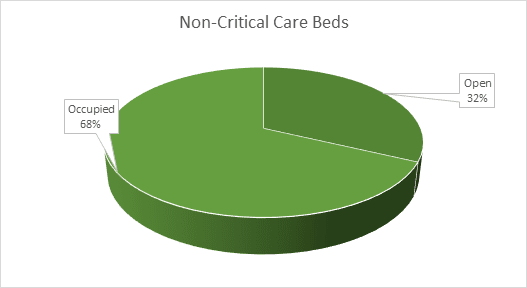 Safety Precautions
Bozeman Health remains committed to the health and well-being of our community and our workforce.
Bozeman Health primary care and specialty medicine providers have increased capacity for telehealth care and that option remains available for patients unless an in-person visit is needed. Should an in-person visit be needed, the following precautions remain in effect:
limited open entrances
heightened visitor restrictions
entrance screening for temperature, respiratory symptoms, and purpose of your visit
requirement for employees, patients, and visitors to wear a mask or cloth face covering and to have their mask in place prior to entering a Bozeman Health care site. Masks must be kept on except when eating.
You are encouraged to contact your provider with any questions or to seek medical care. Call 911 for an emergency and if you have signs and symptoms of stroke or heart attack. Precautions have been implemented to help keep you safe. Please don't delay care, as we are here to ensure your health needs are met.
Visitor Restrictions in Effect
Visitor restrictions have been in effect since January 13, 2020 due to influenza and have been heightened for Bozeman Health Deaconess Hospital, Big Sky Medical Center, Hillcrest Senior Living, and all Bozeman Health care sites in light of the COVID-19 pandemic.
At the current time, one visitor is allowed to accompany every patient, subject to the following:
Visitors may be restricted in areas where physical waiting space does not allow for appropriate safe distancing and where additional visitors may cause unsafe crowding in waiting areas, i.e. ambulatory clinic and/or urgent care settings.
In regards to situations where a patient is at the end of life, the unit manager has the discretion to limit the duration of the visit based on clinical considerations.
NICU patients may have a maximum of two parents or caregivers as visitors.
All pediatric patients are permitted ONE visitor/companion age 18 or older, which the exception of NICU patients as mentioned above.
Patients who SARS-CoV-2 (COVID-19) positive or who are a Person Under Investigation (PUI) for SARS-CoV-2 should be restricted to essential visitors only under the following circumstances:

Any patient who requires a caregiver assistance for cognitive, mobility, or behavioral support.
Consistent with current CDC recommendations, visitors for this patient cohort should not be present during aerosol generating procedures, and will be instructed to only visit the patient room and not go to other locations in the facility.
Visitors will be screened at all Bozeman Health care site open entrances for symptoms of respiratory illness, and pending SARS-CoV-2 test results. Respiratory illness symptoms include new-onset of cough, shortness of breath, difficulty breathing, fever, chills, muscle pain, sore throat, new loss of taste or smell, headache, runny nose, and gastrointestinal symptoms like nausea, vomiting or diarrhea. Any visitor with these symptoms will not be allowed to enter a Bozeman Health care site. Only asymptomatic visitors, without pending SARS-CoV-2 tests, will be allowed into facilities.

Very rare exceptions for end of life circumstances, if the physician and dept. leaders are in agreement, may allow for an essential visitor who has been screened to have respiratory illness, or a pending SARS-CoV-2 test, or is on isolation or quarantine orders.

Each visitor must wear a face covering while in any Bozeman Health care site, visitors will be asked to bring their own face covering.
Visitors should stay in the patient's room or designated waiting area except when arriving at or departing from the care site.
Visitors under the age of 16 are strongly discouraged from visiting. In extenuating circumstances where there are no other options than to have the visitor under the age of 16 in the facility, an exception may be considered by the leadership and care team of the area in which the patient is receiving care.
Patients who have altered mental status or developmental delays (where a caregiver is needed to provide safety) may have one visitor in addition to their caregiver.
Community-based care providers, who are involved in the care of the patient, may visit for support and care continuity in addition to the patient's one visitor.
Visitors may not remove supplies or equipment from the patient room or facility.
Visitors of hospitalized patients may leave and re-enter the facility once per day and will be issued a visitor passport.
Bozeman Health employees who have family members receiving care at any care site are subject to the same restrictions on visitation.
In addition to the above information, the following is applicable for obstetric patients:
One healthy adult caregiver is allowed to accompany the patient while she is in the Family Birth Center, OR, and postpartum. The same caregiver must follow the patient from labor and delivery through to postpartum. If the patient is COVID-19 positive, no visitors are allowed.

In the operating room, one partner may be permitted to attend the delivery.

The partner will be screened upon entry to the building and will be required to wear the appropriate personal protective equipment within the operating room.

A formally-trained healthy adult Doula who has been issued an official visitor passport in addition to your caregiver may be present for labor support in the labor room and during childbirth. The labor support Doula is not permitted in the operating room or on the postpartum unit and must comply with current Bozeman Health masking, symptom, and hand hygiene policies. The patient requesting a Doula should let her clinic/provider know in advance so that the appropriate approval can be given.

All ambulatory or outpatient obstetric patients undergoing an ultrasound or being evaluated for a complication are permitted ONE visitor/companion age of 18 or older.
Visitors that are permitted at a Bozeman Health care site will be asked to thoroughly wash their hands or use alcohol sanitizer before and after leaving a patient room, exam room, or any health care location. All patients and visitors are asked to wear a mask or cloth face covering.
For patients hospitalized at Deaconess Hospital or Big Sky Medical Center, care teams encourage patients and families to connect via personal devices for phone calls and video chat (FaceTime, Google Duo, Facebook Messenger, etc.)
HILLCREST SENIOR LIVING
Hillcrest Senior Living residents are allowed visitors only if their health is dependent on hospice, home health, third party services, or other health-related contracted services.
All visitors to all Bozeman Health patient care sites will be screened for respiratory symptoms and fever and COVID-19 risk at open entrances.
Open Entrances at Bozeman Health
Bozeman Health Deaconess Hospital: Entrance 5, Entrance 7, and the Emergency Department entrance are open for patients, staff, and visitors. Entrance 1 is open weekdays from 8 a.m. to 4 p.m. for visitors only.
Big Sky Medical Center: main entrance is open.
Belgrade Clinic + UrgentCare: main entrance is open.
b2 UrgentCare Main Street and b2 MicroCare: main entrances are open.
Hillcrest Senior Living: main entrances are open.
Hours and Locations for COVID-19 Test Sites
All persons must have a physician order for a COVID-19 test. If you have not talked with a physician, please contact your primary care provider or call the COVID-19 Hotline. Do not go to a drive-up test site without receiving instructions from a provider to do so.
Drive-Up Sites
Bozeman Health Deaconess Hospital, Parking Lot H | Weekdays, 8 a.m. to 1 p.m.
Big Sky Medical Center, ambulance bay | Every day, from 9 a.m. to 5 p.m.
Belgrade Clinic + UrgentCare main parking lot | Every day, 8 a.m. to 7 p.m.
Walk-in Site
If you do not have a provider order for a COVID-19 test, you can see a provider at b2 UrgentCare to see if you meet the testing requirements.
b2 UrgentCare Main Street | Every day from 8 a.m. to 7 p.m.
Hours and Locations for Viral Triage Clinics
Bozeman Health Belgrade Clinic + UrgentCare | Weekdays from 8 a.m. to 7 p.m. | Weekends from 9 a.m. to 5 p.m.
Big Sky Medical Center | Weekdays from 9 a.m. to 5 p.m. | Saturdays from 9 a.m. to noon
COVID-19 Testing Prices
In accordance with the CARES act, Bozeman Health's charges for COVID-19 testing and specimen collect is as follows:
COVID-19 Test $175.00
COVID-19 Antibody Test $100.00
COVID-19 Rapid Molecular Test $250.00
COVID-19 Vaccine administration--currently no charge. This is effective for COVID-19 vaccines administered through April 30, 2021.
Other tests and screening may be ordered and provided at the same time of service, which will affect a total bill for this service.

The cost of COVID-19 testing (including antibody testing) will be submitted to your health insurance, which we will verify when we register you. If you do not have health insurance, COVID-19 testing and specimen collection it may be billed to HRSA (Health Resource and Service Administration- funds available under the CAREs act) or State covered testing programs on your behalf.
If you prefer to utilize the pay now option and not use insurance, the cash rate for the COVID-19 test is $150.00 and the COVID-19 Rapid Molecular Test is $230.00, which will be collected at the time of service. The pay now cash rate for a COVID-19 antibody test is $75.00.
Infection Control Guidance for Preventing Transmission of Respiratory Illness
WASH YOUR HANDS
The most important way to help prevent transmission of respiratory illness is through practicing good hand hygiene.
Washing hands for 20 seconds with soap and water is most effective in killing viruses.
Hand sanitizer with 40-60% alcohol is an alternative until you can wash your hands with soap and water.
COVER YOUR COUGH AND SNEEZE
Cough and sneeze into your elbow to prevent the spread of germs.
Throw used tissues into the garbage. Immediately wash your hands after coughing or sneezing.
STAY HOME if you are feeling ill.
Do not go to work if you have a respiratory illness.
Do not travel if you have a respiratory illness.
GET YOUR FLU SHOT
Influenza symptoms are very similar to COVID-19 and the flu is more common than COVID-19. This will also help your doctor narrow the diagnosis if you were to get symptoms later.
CALL AHEAD
If you need to go to the doctor for respiratory symptoms, call ahead to your primary care provider or to UrgentCare. This allows clinics and healthcare providers to properly ensure they can protect others, including those who may be in the waiting areas, health care workers, your family and friends.
Public and Global Health Information
Gallatin City-County Health Department is the best resource for local, public health information.
Centers for Disease Control and Prevention