Caring for Southwest Montana
Our nonprofit locally governed health system, Bozeman Health, has been committed to providing caring professional medical services for more than a century. What began as a 20-bed hospital with one doctor is now an integrated health care delivery system with two hospitals, two neighborhood care centers, more than 40 provider clinics, and b2 Care—our retail health division with b2 VirtualCare, b2 MicroCare, and b2 UrgentCare.
Across the health system, and as Gallatin County's largest private employer, we have 133 licensed beds, with more than 2,400 employees, 762 nurses, 144 employed physicians, and 94 advanced practice clinicians.
Centralized healthcare began in the Gallatin Valley with Dr. Henry Foster, who built a dedicated medical facility, the Bozeman Sanitarium, in 1897 on the corner of Lamme and North Tracy avenues. After Dr. Foster died, the Bozeman Sanitarium was sold to Dr. J.F. Blair in 1902, and he renamed it the Blair Sanitarium.
Leadership of the Deaconesses
On August 3, 1911, articles of incorporation of the Bozeman Deaconess Hospital were filed in the office of the County Clerk of Gallatin County.
Dr. J.F. Blair and his wife Elizabeth P. Blair, executed a warranty deed conveying the property known as the Bozeman Sanitarium to the Trustees of the Bozeman Deaconess Hospital on February 1, 1912.
The Hospital was placed in the hands of the Deaconesses of the Methodist Episcopal Church. The deaconesses were women who dedicated their lives to service, caring for patients, cleaning the hospital, and typically receiving a small stipend plus room and board.
For the first three years, Deaconesses Leech, Bjorkland, Amanda Olson, and Pratt were in charge as Superintendents and from 1914 to at least 1926 Miss Edith R. Ackerman was the hospital superintendent.
Under Miss Ackerman's leadership, and for the next fifteen years, the hospital served 9,500 people – a number greater than the entire population of Bozeman, at the time. Also during her tenure, by 1920, additional hospital facilities were needed, and in spite of pressing financial problems at the time, a majority of the 15,864 residents of Gallatin County and the Methodist Church supported building a new hospital. The 50-bed hospital cost $125,000 to complete. The old sanitarium was renovated to house the Deaconess nurses.
It was during this time that one of the reports of the hospital noted, "The Bozeman Deaconess Hospital has won for itself such an important place in the life of the community that it is indispensable. It exists for the profit of no individual or society, but for rendering the finest possible service to one and all."
Additionally, the hospital conducted, under the direction of Miss H. Grace Linfield, a training school which graduated nurses. From 1922 to at least 1926, this was affiliated with the State College [this would be Montana State University, known in the 1920s as Montana State College].
In one of Miss Ackerman's Superintendents Reports she notes that, "The work relative to Nurses' Training School is increasing. There are so many demands, so many opportunities to add to a nurses' education that it takes constant planning to make the course of study the best. In this day when young women are seeking fields of service, we are glad to tell them of Deaconess nursing."
By the 1940s, the last of the Bozeman Deaconesses had moved or retired, ending the era of the deaconess.
Rapid Growth and Innovation
In 1944, a west wing was added to the hospital to serve as the nurses' dormitory. A few years later, the addition was converted to patient services, and the capacity of the hospital was increased to 104 beds (patients shared rooms and had longer hospital stays than is the norm today). In 1955, a full-time radiologist was hired and a modern x-ray department opened.
In 1956, the governing board and management at Bozeman Deaconess recognized that growth would come to the Bozeman area, and purchased 500 acres in the Hillcrest area on Highland Blvd. The need for a retirement community became obvious in the 1960s, and a portion of the site became Hillcrest Retirement Community. In 1957, the downtown hospital opened a newly equipped physical therapy department; two years later, a modern laboratory was established.
An intensive care unit was added in 1969, attached to the original buildings built in 1920 and 1944. In 1971, a $1.7 million addition was completed on the hospital, which was still located on the corner of Tracy and Lamme. The hospital purchased a radioactive isotope scanner in 1977.
By 1980 the population in Gallatin Valley had grown to 42,865 and in 1983 the need was established for a modern acute care facility. Trustees formulated a long-range development plan to relocate and construct a new facility west of Highland Boulevard and north of the Hillcrest Retirement Community.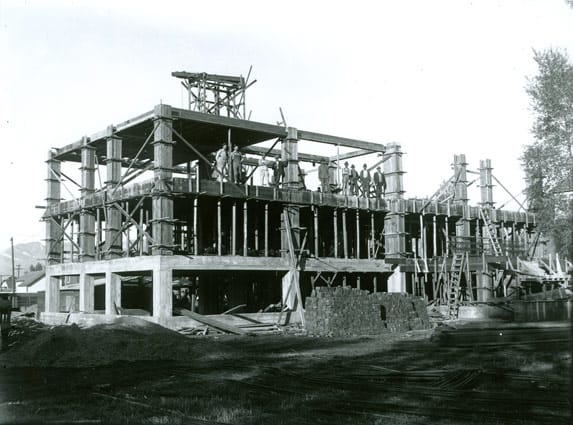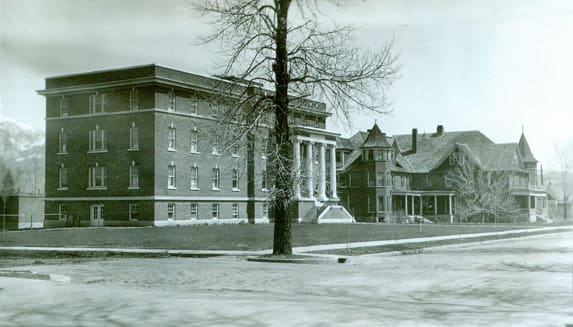 Bozeman Deaconess Hospital, now Bozeman Health Deaconess Regional Medical Center
The 86-bed Bozeman Deaconess Hospital opened in 1986 with 60 physicians. The "new" Bozeman Deaconess was built on 90 acres, leaving 400 acres free for future use or sale. In response to requests for office space by area physicians, Highland Park 1 opened in early 1990 and Highland Park 2 was fully occupied by July 1992. Highland Park 3 opened in 1998 to house office space and the Cancer Center and Outpatient Services. Highland Park 4 was completed in 2005 and Highland Park 5 opened in 2016.
In the 30 years our hospital has been in its current location, the population of Gallatin County has more than doubled. Bozeman Health has responded to growing needs for improved community health and quality of life. In 1990, the Cardiac Pulmonary Rehabilitation program began and the Highland Park Pharmacy opened, The Cancer Center opened in 1994 and a 10-bed emergency department opened in 1999. The Cardiac Cath Lab opened in 2003 and a new surgery suite was constructed in 2005. Advanced Medical Imaging also opened on the Bozeman Health Deaconess Hospital campus.
Bozeman Health Deaconess Regional Medical Center Cancer Center was renovated in 2006 to offer fully integrated cancer care. The center is fully accredited with commendation by the American College of Surgeons Commission on Cancer and is a member of Seattle Cancer Care Alliance Network. Also in 2006, the Wound Clinic opened and the following year a hyperbaric chamber was added.
In 2007, we began the Hospital Medicine program. Surgical Services expanded and a new Perioperative Services wing was built. The Sleep Disorders Center expanded from three to six sleep rooms. The Diabetes Center and the new high-tech Laboratory, with fully automated instrumentation, opened. The following year, the Vascular Lab opened for radiologists and cardiologists offering minimally invasive procedures. The Bozeman Deaconess Foundation (now Bozeman Health Foundation) celebrated a decade of philanthropy with $10 million raised for healthcare services in 10 years.
We continued to expand services and facilities in 2011-12. The new $9 million emergency department opened, providing 26 state-of-the-art examination rooms for patient care. Fresenius Medical Care purchased Bozeman Dialysis Center, expanding treatment options for outpatients and instituting inpatient dialysis. The Cancer Center was selected by the National Comprehensive Cancer Network as a research affiliate to offer 75 new clinical cancer research trials locally.
Bozeman Health Medical Group
Bozeman Deaconess Health Group (now Bozeman Health Medical Group) began in 2005 as a partnership to support continued access to essential and expanded services in the community. Today, there are 144 employed physicians, and 94 advanced practice clinicians employed in the Medical Group, providing primary care (family medicine, internal medicine and pediatrics), cardiology, geriatrics and palliative medicine, nephrology, otolaryngology, obstetrics and gynecology, gastroenterology, rheumatology, neurology, physiatry, neuropsychology, travel medicine and infectious disease, oncology, hematology, wound and hyperbaric medicine, pulmonary medicine, sleep medicine, critical care and urology.
Bozeman Health—an integrated health care delivery system
In 2015, with Bozeman Deaconess Health Services adding more care sites in Southwest Montana, Bozeman Health was formed as the parent company to Bozeman Deaconess Regional Medical Center. In that year, Bozeman Health rebranded to Bozeman Health, opened Belgrade Clinic, and Big Sky Medical Center.
In 2020, while still heavily in the midst of the global COVID-19 pandemic, Bozeman Health continued to expand services on the Deaconess Regional Medical Center campus. We opened Southwest Montana's first Neonatal Intensive Care Unit (NICU) and a new Family Birth Center, and added two neonatologists to the Deaconess Hospital care team. A new three-story patient care tower, with a new 20 bed critical care unit, encompassing intensive care and progressive care rooms was also added to Deaconess Hospital, providing enhanced critical care services to the community.
Today Gallatin County is home to nearly 115,000 people who, along with visitors, seek and receive top-notch medical care at a Bozeman Health care site in Southwest Montana. We're grateful to our community for allowing us the opportunity to care for you and grow with you.