Nursing Opportunities
We'd love to have you be part of our Bozeman Health community!
View all available nursing positions.
Philosophy
Our philosophy at Bozeman Health is patient-centered care, strong clinical judgment, and advocacy for the care of our patients, their families and the community. We aim to promote, improve, maintain or recover health, to cope with health problems and to achieve the best possible quality of life from the beginning of life all the way through a dignified death.
Our nurses practice six components of the nursing process: assessment, diagnosis, outcomes identification, planning, implementation and evaluation to provide and promote a healing environment. Members of the Division of Nursing are committed to resource driven practice to accomplish evidence-based care and outcomes while working collaboratively with other health professionals.
As members of the profession of nursing, we are accountable to the expectations of the American Nurses Association(ANA) Scope and Standards of Professional Nursing Practice, the ANA Code of Ethics for Nurses and the Montana Nurse Practice Act.
Practice Model
This model is the overarching framework for our nurses and nursing practice at Bozeman Health. It details how we practice, collaborate, communicate and develop professionally. It unifies our identity as nurses and provides a description of the theories from which to base practices and performance.
Theoretical Beliefs
Patient- and family-centered care means we meet the unique needs of each individual patient and family. This is done with respect and personal concern for what is most important to the patient and family, while safeguarding their dignity and well-being, and actively engaging them in all aspects of care.
We believe there can be no curing without caring. Establishing caring, therapeutic relationships with the patient and family, with our colleagues and with ourselves will fully allow us to provide a healing environment and deliver excellent patient care (Koloroutis, 2004).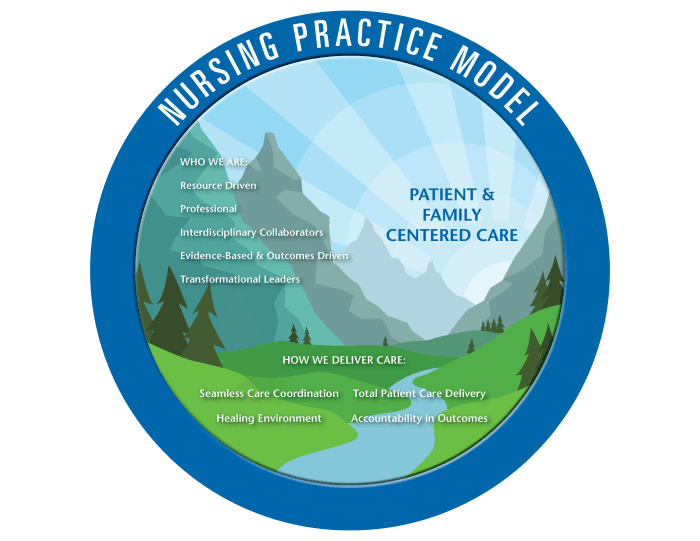 Reference
Koloroutis, M., (Ed.). (2004). Relationship-based care: A model for transforming practice. Minneapolis, MN: Creative Health Care Management.
Shared Governance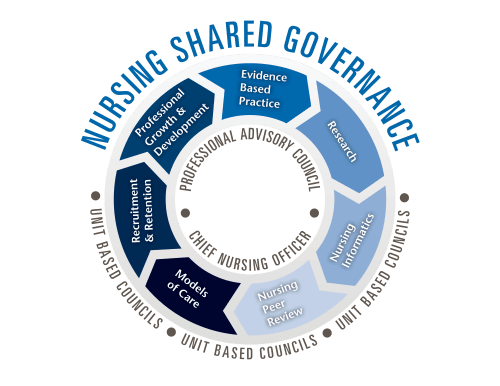 Professional Development and Education
Continuing Education
Bozeman Health is an approved provider of continuing nursing education by the Montana Nurses Association, an accredited approver of the American Nurses Credentialing Center's Commission on Accreditation. This allows us to provide local access to quality continuing education opportunities.
Certifications
Our direct-care nurses are above the national average for holding professional certifications, according to national database comparisons. Professional certification is heavily emphasized at this organization. Certification differential pay, preparation-course offerings and organizational recognition are a few ways we support and encourage high professional certification rates.