Surgical Services
Bozeman Health Surgical Services at Deaconess Hospital consists of seven surgical suites and a large station recovery area. The highly trained medical staff and surgical team perform general surgery and specialized procedures including general surgery, orthopedic surgery (general, spine, upper extremity, joint replacement and sports medicine), podiatric medicine, urology, OB-GYN, ENT, cosmetic surgery, oral surgery and ophthalmology. Our anesthesia services are provided by private practice physicians. Surgery staff are available with on-call service 24 hours a day. Our surgery department includes staff for Day Surgery, Endoscopy, Operating Room and Central Processing. All of our operating room nurses are specialty trained for operating room patient care.
The more you know, the less frightening surgery will be. We have created a video to help our youngest patients become familiar with what will be happening when they come in for their surgical procedures.
Perioperative Services is the "front door" to patients having inpatient and outpatient surgery and pain management treatment at the facility. The new Perioperative Services and Surgical Services facility is located on the second floor of the five-story Highland Park 4 building, which adjoins the hospital.
The core of the project is the new Perioperative Services center (formerly called Deaconess Day Surgery). Coordinated services such as pre-surgical testing, anesthesia consultations and preoperative patient education will be conducted in one location.
Perioperative Services and Surgical Services offer a full range of surgical services as well as a variety of diagnostic and interventional procedures in an environment designed to provide patients and their families with the highest level of surgical care combined with support before, during and after surgery.
Features of the combined departments include an operating suite with five additional operating rooms, 18 perioperative/pre-surgery bays, new physiological monitoring equipment, new post-anesthesia care unit (PACU) with nine PACU bays and two PACU isolation rooms, three family consultation rooms for post-surgical discussions with physicians and one surgical family waiting room.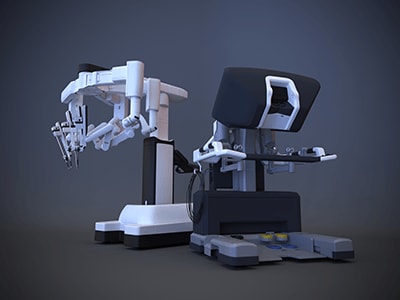 Bozeman Health has access to the da Vinci® Surgical System in our operating rooms—making surgical procedures less invasive and facilitating faster recovery times. Robotic surgery represents a significant advancement from traditional open surgery and conventional laparoscopy. Currently, the da Vinci® Surgical System is being used by our general surgeons, urologists, gynecologists and obstetricians.
Benefits to our patients may include:
Smaller incisions
Shorter recovery time
Less pain and scarring
Faster return to regular activities
Having the da Vinci® Surgical System at Bozeman Health enables our community to receive top-quality care right here in the Gallatin Valley.
The physicians on medical staff perform a variety of cosmetic and reconstructive procedures.
Anesthesiology has a clinical staff of over 10 anesthesiologists and provides a wide range of clinical anesthesia services in both inpatient and outpatient settings, including all operating rooms and the Family Birth Center. Preoperative medical/surgical evaluations, regional and general anesthetics, labor epidurals, critical care patient management, postoperative pain management, chronic pain management, and emergency services are provided by the department to thousands of Bozeman Health patients each year.