Impact
Since its inception in 1998, Bozeman Health Foundation has worked diligently to build philanthropic partnerships with those who reside in and visit southwest Montana. Charitable support has influenced the growth of virtually every department at Bozeman Health. Over the years, the most significant advances have been made in cancer care, cardiovascular services, emergency medicine, pediatric specialties and behavioral health services.
25 Years of Impact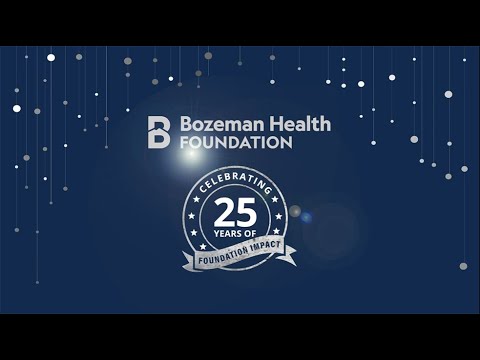 Stories that Inspire
Stories connect us all through pain, perseverance, gratitude, hope and healing. Hear impactful and inspiring stories directly from patients and community throughout our region, and how Bozeman Health and Bozeman Health Foundation made a difference in their lives.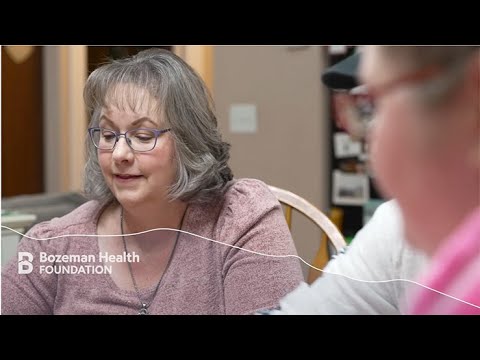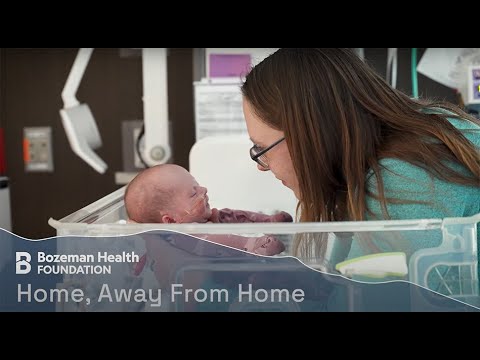 "MY STORY IS SPECIAL, BUT MORE COMMON THAN YOU MIGHT THINK."
What's Ranga's story?
History caught up with him and he found himself facing the challenge of a lifetime. "I faced an unexpected, monumental challenge." What happened next, he found himself surround by people who clearly answered, for him at least, the question "who cares."
I OVERCAME MY CHALLENGES BECAUSE OF THE GENEROSITY AND LOVING CARE OF THIS COMMUNITY." - Ranga Perera, Heart Attach Survivor & ICU Patient
"'LIVE SIMPLY' GUIDES MY CHOICES AND THE PATHS I'VE FOLLOWED BUT SOMETIMES LIFE GETS COMPLICATED."
What's Eduardo's story?
"Simple" has been his mantra but life has a way of throwing us some serious curveballs. Those complexities test us, requiring us to lean on and be strengthened by those around us. He asked "who cares" and the answers he found created for him a true sense of "home."
"FACING THE CHALLENGES I DID, THE LOVE AND CARE I RECEIVED HELPED BRING NEW MEANING TO HOME. TO ME, THAT MEANS THE WORLD."
- Eduardo Garcia, Cancer Center Patient
"BEING AWAY FOR AS LONG AS WE WERE, 'HOME' TOOK ON A WHOLE NEW MEANING."
What's Shaye's story?
She's a dedicated teacher with strong bonds to family and home. 'Home' is about being around people who care, calmed by steady routine. At a time when she and others like her needed to be surround by steady routine, life took an unexpected turn. Now, she's asking "who cares?" and imagining a brighter future for others like her.
FAMILIAR SURROUNDINGS AND SUPPORT FROM A COMMUNITY THAT CARES IS HOW WE DEFINE "HOME" - Shaye Erickson, New Parent & NICU Champion
"I HAD A BIT OF TIME AND A BIT OF CURIOSITY, TOO."
What's Jim's story?
He's naturally curious and typically follows a routine. "That curiosity ended up saving my life." On this one day, he had a bit of extra time on his hands and that set a series of events in motion that defined for him "who cares."
"MY COMMUNITY CARES ENOUGH TO HELP PEOPLE ANTICIPATE THE UNEXPECTED. TO ME, THAT MEANS THE WORLD." - Jim Brown, Health Fair Attendee & Cardiac Patient
Advancing and Enhancing Health Care
Through philanthropic partnerships and in alignment with Bozeman Health's mission and vision, Bozeman Health Foundation strives to advance the health of our community through innovation and enhancements to health care services in southwest Montana.
Specific projects made possible by the generosity of our community: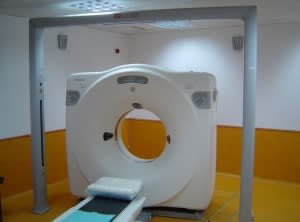 In 2001, a 3T wide-bore MRI was acquired, largely through charitable support. One of the most open, patient-friendly imaging systems available, this MRI comfortably accommodates large and claustrophobic patients. It produces accurate and expedient information, resulting in faster diagnosis and treatment. It has extensive capabilities including high-resolution images, 3-dimensional views, and vascular scans. The system can be upgraded as technology advances.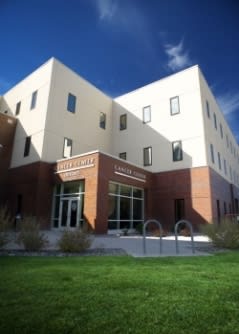 In February 2015 proud donors and community leaders gathered to celebrate the role of private philanthropy in supporting the extensively renovated Bozeman Health Cancer Center. Together, Bozeman Health Foundation and its supporters raised over $2.7 million, exceeding our original goal of $2.5 million.
In 2014, the Cancer Center expansion included a new linear accelerator for radiation treatments and an expansion to the infusion area. The linear accelerator is housed in a door-less vault and allows patients to receive maximum doses of radiation while protecting healthy tissue. After the expansion to the infusion area there is now a total of 17 infusion chairs, two private infusion rooms and 11 examination rooms, and the lab and pharmacy areas increased to accommodate current and projected growth. All of these features will have a favorable impact on not only the quality and safety of care, but will increase comfort and privacy for patients. The goal of the Cancer Center is to ensure that patients can remain home during their cancer care.
In 2006, medical oncology and radiation oncology services were integrated together in an expanded cancer healing center largely funded through charitable donations. The center promotes a team approach to oncology care. Bozeman Health Cancer Center utilizes the latest diagnostic technology available, from state-of-the-art mammography equipment to CT scanners, Bozeman Health's expert cancer team of oncologists, surgeons, radiologists, urologists, OB-GYNs, gastroenterologists, dermatologists and pathologists works together to effectively diagnose and treat cancer wherever it strikes.
In 2004, the BAT system was added. BAT is an ultrasound-based organ localization device that results in rapid and precise localization of internal anatomy during radiation treatment. BAT is also considered a valuable tool for treating cancers of the breast, bladder, liver, pancreas and neck.
In 2000, 3-dimensional and intensity-modulated radiation therapy (IMRT) technology was acquired to upgrade the linear accelerator, vastly improving cure rates by allowing for maximum dosage of radiation while minimizing long-term side effects to healthy tissue and organs.
In 1998, through the Destination Home Capital Campaign, a state-of-the-art cancer center was established with a new linear accelerator for the provision of local radiation therapy. Expanded services enabled patients and their families to avoid costly and stressful travel for this lengthy treatment.
The Bozeman Health Cancer Center is a member of the Seattle Cancer Care Alliance (SCCA), which is a group of expert physicians from Fred Hutchinson Cancer Research Center, University of Washington Medicine and Seattle Children's Hospital. This partnership allows us to offer the latest treatment options to our patients locally, without costly and stressful travel. All of our physicians have access to the latest information about diagnosing and treating cancer as well as information on clinical studies for targeted cancer therapies, even before they may become widely available.
In 2002, a state-of-the-art Cardiac Catheterization Laboratory (Cath Lab) was established with half of the funding coming from charitable contributions. This facility enabled physicians and technicians to perform diagnostic procedures and offer treatment for several cardiac conditions. In addition to angiography—a diagnostic process in which dye is injected into the bloodstream so the heart and circulatory system can be viewed at work in live x-ray-like images—many problem areas identified can be treated as well. Stents, angioplasty and atherectomy are among the treatment options available.
In 2005, a cardiovascular ultrasound for diagnosing ailments of the heart and circulatory system was added through charitable support. This technology is more precise and accurate than ever before thanks to continuing developments and improvements in "imaging technology." Cardiovascular specialists now have the ability to see and study the heart and blood vessels in amazing detail with several minimally invasive procedures.


In 2007, donors established the Cardiovascular Training Center. This center is American Heart Association accredited and provides education and certification to medical professionals from Bozeman and nearby communities.
In 2005, donors responded to the need for a Children's Play Area, located in the patient registration lobby. This special space is designed to give our young patients, or the young family members of our patients, an enclosed "kid friendly" area to await procedures.
In 1998, through the Destination Home Capital Campaign, a collaborative effort with a neighboring healthcare provider established local kidney dialysis so community members requiring this life-sustaining treatment could stay in the community rather than travel to neighboring treatment facilities several days each week.
In 2008, contributors donated nearly $1 million to purchase two new digital mammography machines for the women's imaging center. Digital mammography provides the highest-quality images with amazing clarity. Benefits to patients are more-detailed, higher-quality images and the ability for images to be shared and compared. Generally, digital technology provides better visualization of breast tissue compared to film-screen technology. This system improves visibility of the breast, particularly near the skin line the chest wall and in women with dense breasts. Generally, dense breast tissue is found in younger women and women undergoing hormone replacement therapy. These are two patient populations that are difficult to image with film/screen mammography. A woman's chance of developing breast cancer in her lifetime is 1 in 8 and nearly 40,000 women die from breast cancer each year. Digital mammography may allow for earlier detection and therefore, better outcomes for patients.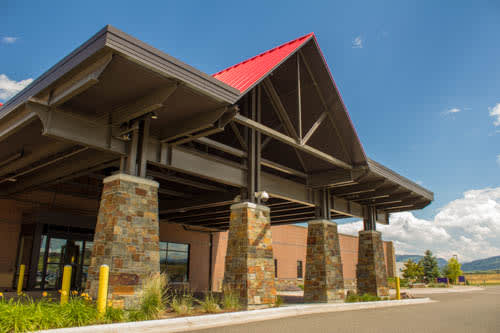 To meet emergency medicine needs, Bozeman Health Deaconess Hospital initiated a $15 million project to renovate and expand the emergency department. The new 25-room/27-bed facility now provides enormous benefits for both those who receive and provide emergency care. The larger area offers appropriate space for advanced services, bigger rooms for modern beds and technology, and increased efficiency.
To fund this critical project, Bozeman Health Foundation conducted the largest capital campaign in its history. The Cornerstone Campaign - Realizing the Vision for Bozeman Health Deaconess Hospital achieved unprecedented success by reaching its $9 million goal. Philanthropic support was received from all areas of the community—individuals, corporations, foundations, as well as those closest to the hospital, doctors, nurses, administration, employees and board members of both the hospital and the foundation. For this level of support, we are truly grateful!
The construction pictures begin with the March 28, 2011, groundbreaking and continued through project completion in January of 2013.

In 2007, charitable gifts were designated to the renovated nursery in the labor and delivery department. This newly modernized facility offers the best possible surroundings for the newest arrivals to the Gallatin Valley. In addition to accommodating more newborns, a higher level of care is available for babies with special needs.
In Fall 2020, Bozeman Health opened Southwest Montana's first Neonatal Intensive Care Unit and new Family Birth Center. These two facilities are now part of the women's and children's tower at Deaconess Hospital. This renovation to the Family Birth Center was made possible through charitable support from the Caring Forward Campaign.
In 2000, funds were raised to purchase the Gamma Probe for surgical procedures involving the lymph nodes. Prior to surgery, a radioactive tracer is injected into the breast tissue surrounding the tumor. A handheld probe is then used to locate radioactive sentinel nodes, which are the primary indicator of cancer in the lymph node system. Sentinel nodes are removed and biopsied. If they are cancerous, the remaining lymph nodes are removed. If no cancer is found, the remaining lymph nodes are preserved and the patient is able to recover quickly from this minimally invasive surgery.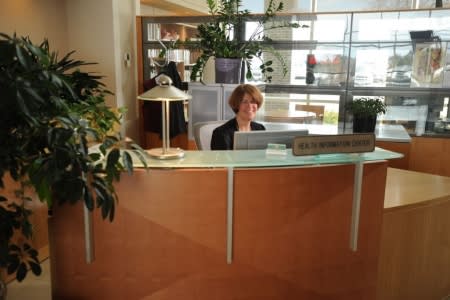 In 1999, through the Destination Home Capital Campaign, the Health Information Center was established to provide free health information. The staff of the center is trained to research and locate information on topics such as wellness and prevention, disease and general health-related issues.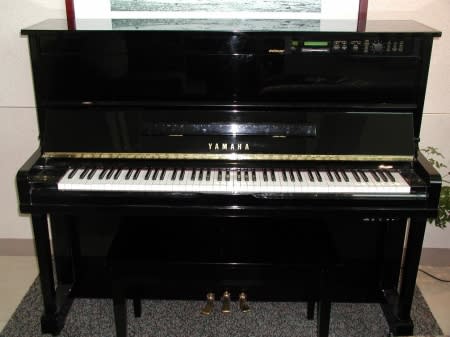 In 2003 donors purchased a player piano to bring the joy of music into the air for special occasions.
In 2009, a four-bed progressive care unit (PCU) was established through charitable gifts. This unit offered care for acutely ill or injured patients and those in varying stages of recuperation from diagnostic, therapeutic and/or surgical interventions that require cardiac monitoring. It's also a step-down from the hospital's intensive care unit (ICU).
In 2016, a new ICU was considered Bozeman Health's most urgently needed facility improvement. Through the Caring Forward Campaign, we were able to raise charitable support to enhance critical care services and build a three-story patient care tower at Deaconess Hospital. In Fall 2020, we were able to celebrate the opening of our new main entrance, lobby, and Critical Care Unit (CCU) at Deaconess Hospital.
This new 20-bed CCU will replace our current ICU and PCU with universal rooms that can accommodate patients staying in the same room through changes in acuity from critical care to progressive care. Each patient room is approximately triple the size of the old ICU rooms at 370 square feet, and each room includes a private bathroom and shower. Eight of the new CCU rooms can provide negative pressure isolation—an increase from our current two in the ICU. This improves our capacity to take care of patients with respiratory infections like COVID-19.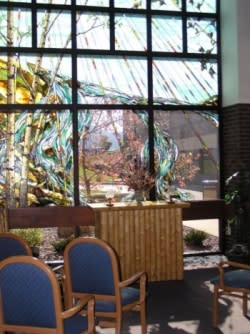 In 2000, charitable giving made it possible for a new chapel to be created. This effort established a visible and welcoming sacred space inviting to people of all faiths or none at all. The project included construction to enclose the interior structure of the chapel, heating and ventilation renovations as well as furnishings and accessories. The larger, brighter and more open space helped fulfill the spiritual needs of patients and their families, staff and guests. It is truly the spiritual center for the whole medical campus.
In 2002 during phase two of this fundraising effort, a glorious wall of stained glass was added. This work of art, created by David Fjeld, provides shelter from the hot summer sun and offers a focal point for those spending precious moments in this truly spiritual space.
In 2005 during the final fundraising phase, the healing garden was put in place as an extension of the chapel. Patients, family members and employees enjoy the serenity of the outdoors, and benefit from the fresh mountain air, running waters and greenery.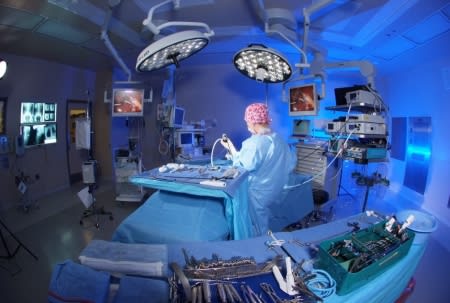 In 2005, charitable funds were used to acquire an integrated operating room system. This features advanced technology including medical video equipment with a ceiling mounted suspension system, providing increased efficiencies and ergonomics in the operating room. The advanced suite provides connectivity to all areas of the hospital, which ultimately leads to the best possible surgical care for patients.
The Care Boutique was established through generous charitable gifts. This lovely retail space was designed for women facing the challenges of cancer. The boutique addresses the unique personal needs of cancer patients and features private prosthetic consultation, gifts, products and accessories to support women living with cancer.
In Fall 2020, Bozeman Health opened Southwest Montana's first Neonatal Intensive Care Unit and new Family Birth Center. These two facilities are now part of the women's and children's tower at Deaconess Hospital. Up until this point, Bozeman was without a NICU, and the closest one was over an hour away. Through the Caring Forward Campaign, we were able to raise charitable support to bring this new tower to life.
The NICU opens as a Level II NICU, meaning that most babies born as early as 32 weeks gestation can be cared for within the unit; it is anticipated that it will transition to a Level III NICU, providing care for babies born as early as 28 weeks gestation. The addition of the NICU brought two neonatologists and a maternal-fetal medicine physician to the Deaconess Hospital care team.
In November 2021, the City of Bozeman awarded Bozeman Health Foundation $325,000 to support the construction of a new Psychiatric Emergency Services (PES) area. The funding contributed to the construction and design of the PES, as well as supported recruitment and retention of key members of the care team. The entire project investment totaled $1.4 million and was complete and open to patients in December of 2022.