Our Health System
Bozeman Health Deaconess Hospital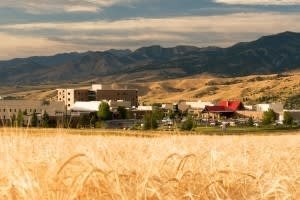 The award-winning Bozeman Health Deaconess Hospital is an 125-bed facility, DNV GL-accredited, certified Level III trauma center serving southwest Montana. It boasts numerous specialists and medical clinics, offering state-of-the-art care to patients throughout the region. The hospital employs more than 200 physicians and health professionals, providing care in more than 35 specialties from physicians with some of the most qualified training, expertise and credentials.
Bozeman Health Big Sky Medical Center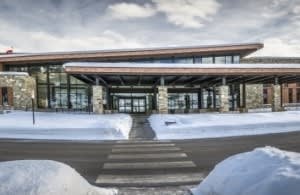 Bozeman Health Big Sky Medical Center offers critical access care to the Big Sky and West Yellowstone communities. Originally built as a four-bed inpatient unit, the facility is designed to expand to eight beds without additional construction. The two-story, 35,000-square-foot facility will include 24/7/365 emergency services with a heli-stop for air ambulance service, an on-site Diagnostic Imaging Center, a fully licensed operating room suite, laboratory services and integrated pharmacy.
Bozeman Health Belgrade Clinic + Urgent Care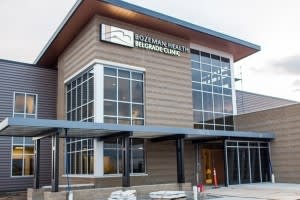 Bozeman Health Belgrade Clinic + Urgent Care is proud to serve this community and surrounding areas. In addition to family medicine, the clinic offers urgent care, laboratory and diagnostic imaging services, physical therapy and pediatrics. Urology and oncology specialists are also available at the Belgrade Clinic by appointment.
Bozeman Health Urgent Care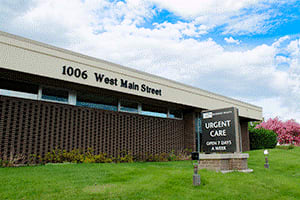 A walk-in medical clinic, b2 UrgentCare offers accessible care for common, acute illnesses and injuries for patients in Bozeman and surrounding areas. The providers are equipped to treat sinus infections, lacerations, broken bones, colds and a broad range of other health issues. The clinic has been providing exceptional quality care for the region for nearly 20 years. They are staffed by a physician, RN, registered lab tech, x-ray tech and front office staff every day, making them available for all types of urgent care needs.
Bozeman Health Hillcrest Senior Living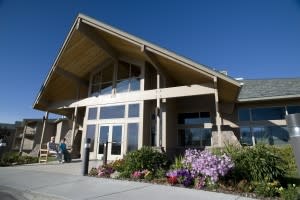 Bozeman Health Hillcrest Senior Living is an active adult retirement community and member of the American Association of Homes and Services for the Aging. The retirement community features both independent living apartments (Aspen Pointe) and assisted-living accommodations (Birchwood) for those who need additional care and support. Originally built in the 1960s, it was completely renovated in 2001 and given a beautiful expansion in 2010. The community offers housing to more than 150 seniors and has more than 80 full-time and part-time staff serving their residents. It is located adjacent to Bozeman Health Deaconess Hospital, making emergency or regular care all the more accessible.
Bozeman Health Foundation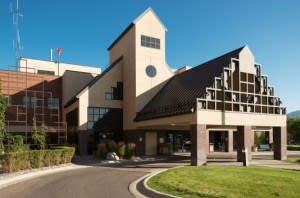 Since 1998, the Bozeman Health Foundation has effectively generated the financial support and assistance Bozeman Health needs to provide crucial health services and state-of-the-art care in the local community. The foundation manages and administers all philanthropic gifts donated to Bozeman Health. The efforts of the foundation allow the health system to continue expanding its healthcare services and remain at the forefront of medical care in all of Montana.
b2 MicroCare
b2 MicroCare is staffed by a nurse practitioner and a patient care tech, providing a nimble care experience for patients ages 2 and older. Appointments at b2 MicroCare are built in 15-minute increments, uniquely created for the patient on the go who needs quick, convenient, quality care for one minor ailment.
b2 VirtualCare
​b2 VirtualCare supplements primary care by giving patients and visitors an on-demand, after-hours option when they are seeking care for minor ailments. It is another access point for those who may not have a primary care provider or may be visiting the Gallatin Valley.
FAQs
Financial stability has the same level of importance as our other strategic goals - quality & patient satisfaction, community benefit & collaboration, relationship development, efficiency & accountability, and growth & development. Being a non-profit organization does not mean that we are not interested in realizing a profit. In fact, it is critical that we maintain a level of profitability so that we can continue to offer the services we now provide and remain financially viable so that we can enhance and/or expand those services to better meet community need in support of our mission.
Bozeman Health Foundation is a separate, non-profit corporation, governed by an independent board of directors that administers all philanthropic gifts to Bozeman Health and its programs. The foundation was established in 1998 to generate private financial support for improved community health and quality of life. Click
here
for more information about the Foundation.
Make sure you include the patient's name and room number and send it to:
Patient Name and Room Number
c/o Bozeman Health Deaconess Hospital
915 Highland Blvd.
Bozeman, MT 59715
Bozeman Health retains some ties to the United Methodist Church, but is not controlled by it and no financial support is received from the United Methodist Church. The governance of the Bozeman Deaconess Health Services corporation is done by a local, independent, community-based board of trustees and some members of the board are local United Methodists. The assets of the corporation are 'held in trust' by the Yellowstone Conference of the United Methodist Church for the purposes of providing health care and related services to the people of Bozeman and Southcentral Montana.
Yes. Bozeman Health is a community owned, non-profit organization.
There are many resources for health information. Bozeman Health provides a free Health Information Center, located in the Atrium in Highland Park 2. It is open to the public from 8 am-4:30 pm Monday-Friday. For more information, please call the Center at
406-414-1644
. While we believe that all individuals should be knowledgeable about their health status, Bozeman Health recommends that you follow the advice of your personal physician.
Bozeman Health Deaconess Hospital, including all hospital departments and Bozeman Health Belgrade Clinic, has earned a three year accreditation from DNV GL-Healthcare following completion of the DNV GL-Healthcare survey in the fall of 2016. Bozeman Health Deaconess Hospital is the first hospital in Montana to seek and receive DNV GL-Healthcare accreditation, which demonstrates that we meet or exceed patient safety standards set forth by the U.S. Centers for Medicare and Medicaid Services.
The Bozeman Health Cancer Center is accredited by the American College of Surgeons Commission on Cancer accreditation program; Bozeman Health Mammographic Program by the American College of Radiology; the Diabetes Center Self Management Diabetes Education Program by the American Diabetes Association and National Committee on Quality Assurance (NCQA) recognition; Bozeman Health Cardiac Pulmonary and Adult Health and Wellness Program has twice earned American Association of Cardiovascular and Pulmonary Rehabilitation certification; Bozeman Health Laboratory earned College of American Pathologists accreditation; The Bozeman Health Cardiovascular Training Center is a designated American Heart Association Training Center; Bozeman Health Sleep Disorders Center is accredited by the American Association of Sleep Medicine; and Bozeman Health Deaconess Hospital is certified by the American College of Surgeons as a Level III Trauma Center. The primary care clinics of Bozeman Health Medical Group earned Level III NQCA Physician Practice Connections--Patient-Centered Medical Home recognition; and the MRI and CT programs earned American College of Radiology accreditation