Cancer Center
With cancer, access to the latest treatment options is very important, as is being close to family and friends while receiving treatment. We provide compassionate cancer care with advanced technology and treatment options right here at home, in a peaceful, healing environment.
Diagnostics and Treatment
We promote a team approach to oncology care. We have the latest diagnostic technology available, such as the most recent mammography equipment, CT scanners and radiation therapy technology. Our expert cancer team also includes surgeons, radiologists, urologists, OB-GYNs, gastroenterologists, palliative care physicians and pathologists working together to diagnose and treat cancer wherever it strikes.
Cancer treatment can be as unique as each individual. Our team works with you and your diagnosis to choose the best treatment and support services for your needs.
Our cancer care services include:
Radiation oncology
Chemotherapy
Navigational bronchoscopy
Access to clinical trials
General oncologic and robotic-assisted surgery
Clinical patient navigators
Oncology social workers
Integrated medicine and support services, including wound clinic, nutrition and massage
Care Boutique offering products specifically for cancer patients and survivors
Cancer rehabilitation services
Access to palliative care
Access to end-of-life care
Lymphedema specialist
Our Affiliations and Certifications

We are accredited by the American College of Surgeons Commission on Cancer, receiving commendation in clinical research, staff education and cancer registry data. We also have received recognition for our work in prevention, early detection and quality improvements, ensuring high-quality, patient-centered care.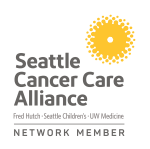 Bozeman Health Cancer Center is a network member of the Seattle Cancer Care Alliance (SCCA) Network, which brings the resources of three internationally renowned institutions to our community: Fred Hutchinson Cancer Research Center, University of Washington Medicine and Seattle Children's.
We are also a member of the Montana Cancer Consortium.
Our Annual Report
Every year the Bozeman Health Cancer Center compiles an annual report. The 2019 Annual Report focuses on Gastrointestinal and Colorectal Diagnosis and Treatment.