Bozeman Health MyChart
IMPORTANT!
Bozeman Health has moved to a new instance of our electronic health record system and your existing Sanford Heath MyChart account has been converted.
You can use your existing MyChart username and password to log into your new Bozeman Health MyChart account. If you have issues logging in, please contact our MyChart Patient Support Line at 406-414-5820.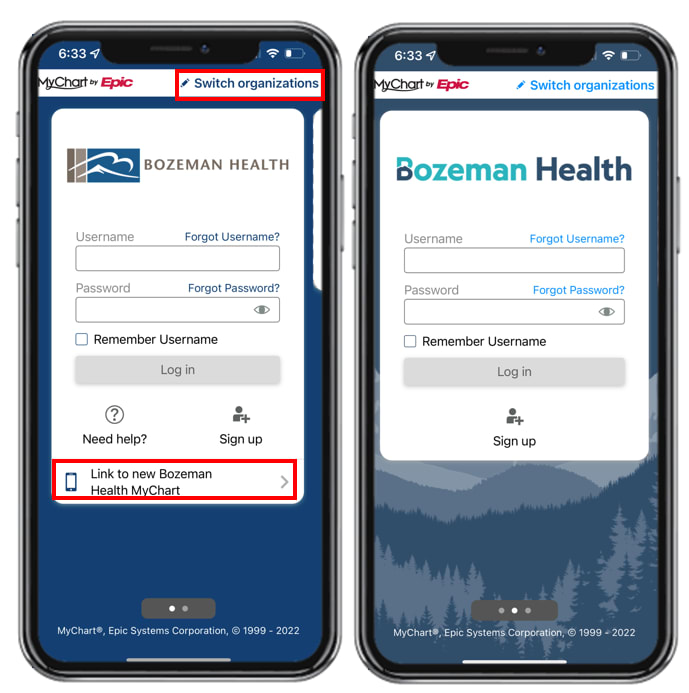 MyChart o­ffers Bozeman Health patients personalized and secure online access to their medical record. It allows you to securely manage and receive information about you and/or your child's health. We encourage patients to sign up for MyChart either over the phone when scheduling an appointment or with a team member during a visit.
Click here to access MyChart via your computer or tablet.
You can download the MyChart app via the Google Play or Apple App store.
Once you've downloaded the MyChart app, search for Bozeman Health. You will want the option with this logo: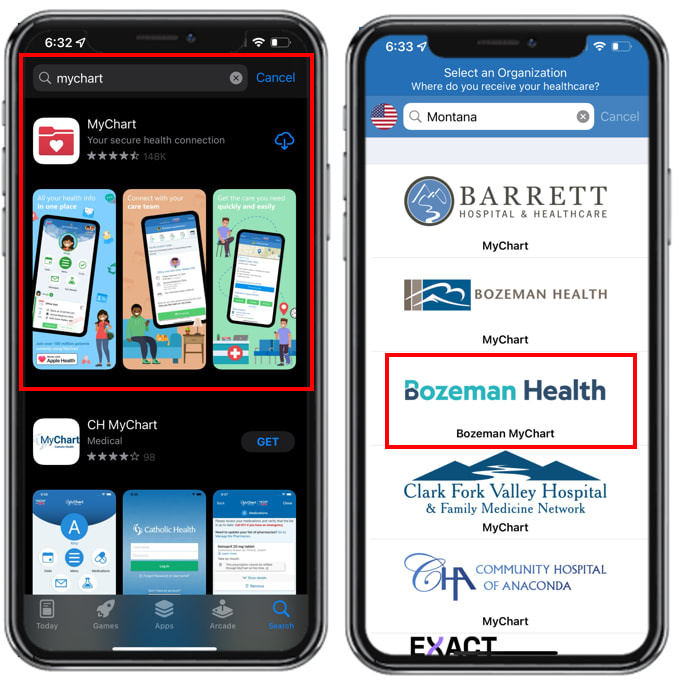 My Billing Statements
Information about billing statements can be found in our Patient Financial Services section.
My Medical Information
Your medical information is easily accessible with MyChart. Review your immunizations, allergies, summaries of recent visits to the doctor and current health concerns whether it's on your desktop, laptop or phone.
My Appointments
Making an appointment to see your provider is as easy as logging on to the secure MyChart portal. During times that work with your busy schedule, view your provider's availability and select the appointment that works best for you. When something unexpected happens, MyChart allows you to cancel appointments too.
My Prescriptions
MyChart lets you conveniently request prescription renewals for you and your family.
My Care Team
When you have a non-emergency question or health concern, you can email your provider directly and securely with MyChart. Your care team can email you as well. It's a great way to exchange information without having to coordinate schedules. Responses are typically within two business days.
My Test Results
With MyChart your doctor will send normal test results as soon as they're available. You can also see any provider notes and comments so you can better understand those results.
My Access
To access MyChart go to MyChart Login and enter a one-time ID verification. Bozeman Health MyChart is secure and the information stays between you and your health team.
Proxy Access
One of the features of MYCHART is Proxy Access. Proxy Access means obtaining access to another person's MyChart Account that is NOT their own. Proxy Access is NOT the same as a Health Care Proxy.
When is Proxy Access used?
Full Proxy Access is used to:
give parents access to their children's accounts
used to give a husband or wife access to their spouse's account
used to give caregivers access to the accounts of those that they care for, i.e. mom, dad, other
Limited Proxy Access
used to give parents access to their teen's accounts
How to Request Proxy Access*
Online through MyChart
At your minor child's provider's office
At your provider's office
At the Health Information Management (HIM) department
*Proxy Access to your child's electronic health record varies by age.