Birchwood: Assisted Living
Birchwood Provides a Supportive Community
Located adjacent to Aspen Pointe, Birchwood is the assisted-living neighborhood of Hillcrest offering comfortable apartment homes and just the right amount of assistance.
Staffed 24 hours a day by trained caregivers under the supervision of licensed nurses, Birchwood residents enjoy peace of mind with help always available and Bozeman Health Deaconess Regional Medical Center only 2 minutes away. Important quality-of-life services such as assistance with medication management, bathing, dressing and mobility are offered with dignity and respect for each resident's special needs.
Call us today at 406-414-2008 to learn how our trained staff can assist you as a member of our Birchwood community.
Resident Services
So much to do and enjoy, all just steps away from your door.
Residents enjoy full use of extensive amenities offered in the neighborhood. From a fitness studio to an extensive library, the lively game room to our relaxing fireplace lounge, there's a place to suit you, whatever your mood. And if you're interested in venturing outside, the community is located atop a bluff with panoramic views overlooking Gallatin Valley and surrounded by mountain vistas, so you won't need to look far to enjoy spectacular views.
Accommodations
Designed especially for residents who require assistance, our comfortable, spacious studio and 1-bedroom apartments give peace of mind. Special attention is given to meal service, housekeeping and personal laundry service. We offer exercise, balance and fitness programs and other life-enriching activities. Transportation is available to medical appointments and shopping, as well as other local events.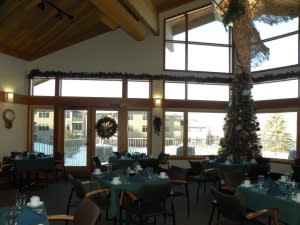 An experienced staff of professional nurses oversees trained caregivers who provide assistance to residents 24 hours a day. Our nurses develop individual service plans based on each resident's required assistance. Service plans are reviewed and revised on a quarterly basis or more often if needed.
At Birchwood, we offer comfortable and spacious individual studios and 1-bedroom apartment homes. Each apartment offers large closets and private bathrooms. Living arrangements are attractive, inviting and well-equipped with both necessities and niceties. Residents furnish their apartments with their own well-loved furniture and personal belongings, making it their own comfortable and secure home.
Bozeman Health Deaconess Reginal Medical Center staff provide services for assisted-living and other residents including physical therapy consultations, blood draws and occupational therapy.
Also located in Birchwood is a number of Respite and Recovery apartments that provide short-term assistance to Aspen Pointe residents and others who may need help during a short recovery period. Respite and Recovery apartments are fully furnished and include assistance by trained staff on a 24-hour basis, as needed.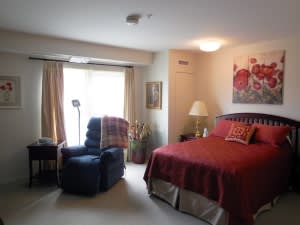 Birchwood is a member of the American Association of Homes and Services for the Aging, an association of nonprofit organizations. Before you move in, plan on:
Undergoing a medical assessment to determine the level of care (which determines cost) and signing a service plan
Signing a Residence Agreement detailing basic services, meals, personal assistance and care, and optional services
Birchwood at Hillcrest also offers a wide range of amenities shared with the residents of Aspen Pointe. Call us today to learn more about the unique assisted-living experience offered by Birchwood at Hillcrest.
Assisted Living Price Range
Assisted living prices include utilities, Wi-Fi, cable TV, transportation, housekeeping services with flat linens, meals and much more. Personal laundry and basic assistance with activities of daily living are available at Birchwood Assisted Living. Activities of daily living include but are not limited to bathing, dressing, medication management, cueing, reminding and toileting.
Licensed nurses are at Birchwood every day, and trained staff is on-site at all times.
If you are comparison shopping be sure to take into consideration all the items that we include in the basic monthly fee.
Initial cost includes a one-time nonrefundable application fee and a partially refunded security deposit.
Basic monthly fees are based on apartment size, floor plan, and single or double occupancy.
Additional charges are based on individual needs for assistance with activities of daily living and are based on the level of assistance required by a resident's condition.
No long-term lease requirement at Hillcrest.
Please inquire at the Hillcrest Marketing Office for specific details.